STUCK IN THE SNOW?


 
We're thinking of our friends stuck in the polar snow vortex monster this week. STAY SAFE FRIENDS!
And if you've indeed found yourself in the thick of winter (longing for warmer golf days) with some time to spare, here are some badass snow sculptures you can attempt in your own front yard. Go on. Grab that ice carving tools set from Uncle Rico (circa '92) and tap into your inner Michelangelo.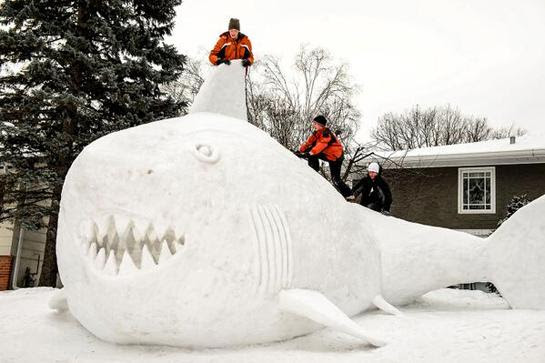 Sharky likes it cold. Real cold.
Bart: "Oh no. We're snowed in!"
"It's my experience that most folk who ride trains could care less where they're going. For them it's the journey itself.." - David Baldacci, The Christmas Train
Quick! Fluffy needs some nuts!
 
Cats know how we feel. They know. But they don't care.
 
---
WHO SAYS YOU CAN'T PLAY IN THE SNOW?
Whatcha talking 'bout Wilis? Winter may have just started. But we can get through it together. Here's some inspiration to keep your game alive in the cold.
There you have it. 2014 is your year to conquer the cold my pretties.

PLAY LIKE THE PROS
(avoid the pro-shop prices)
Yours Truly,
Matt (G4L Guru) Thelon